Happy Holidays! We have so much stuff for you to buy for all your friends and you! We have new Chupa Chups jumbo pillows, 26 inches long. Kei loves them, ($30).
---
Here are the contest winners from the JapanLA x Munky King x Capsole Halloween Party!!! The first place winner is Brenda. Everyone loved her...We loved Kei's costume too, but he works at JapanLA so he is disqualified...
---
We are having 2 parties this week! The first one is our Halloween Party with our friends Munky King and Capsole. You will definately see some of your favorite lowbrow artists partying it up. It is tomorrow, Wed, Oct 31st.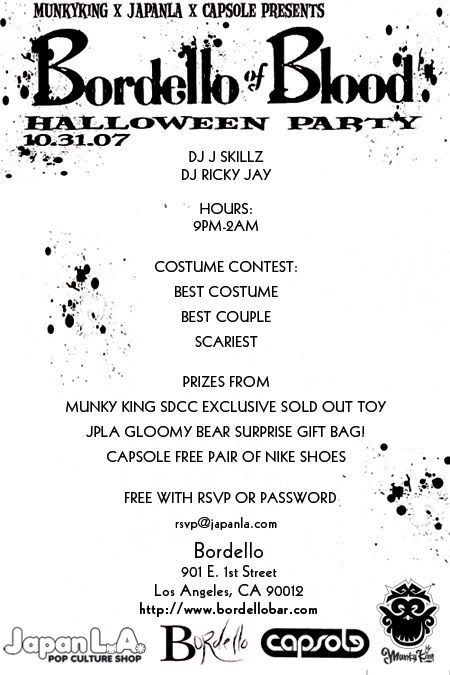 ---
Happy Halloween! JapanLA + Munky King + Capsole are having a Halloween Party Wed, Oct. 31st. It is going to be fun! Check out the flyer below for details. It is at a bar so its 21+.
---
Hi! We have new characters at JapanLA! Here is a pic of Kuromi and Luke Chueh. Come take pictures with Kuromi at JapanLA!!!