We are having 2 parties this week! The first one is our Halloween Party with our friends Munky King and Capsole. You will definately see some of your favorite lowbrow artists partying it up. It is tomorrow, Wed, Oct 31st.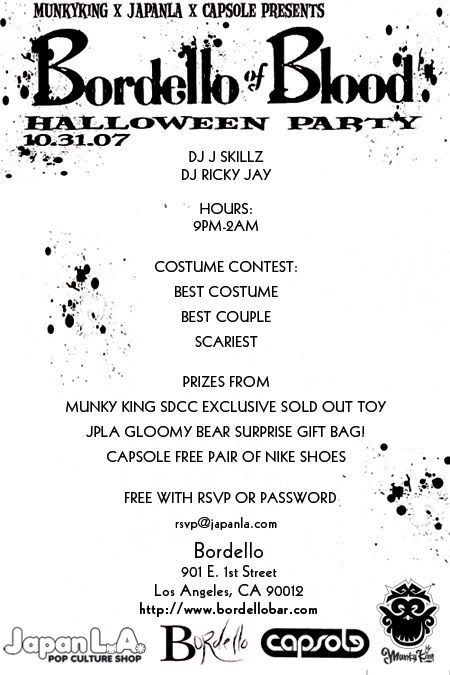 We are also having a party this Friday, Nov 2nd with the makers of the Rock Band video game. It's similar to Guitar Hero, but you get a guitar, bass, drums, and a mic to sing. We will have the game for you guys to play and a stage set up so you can rock out and be ridiculous. My friends at the Von Dutch store are giving away a real guitar as one of the prizes...and the Rock Band game is a prize too. This game isn't even released yet...but you will get to play it! Its going to be sooooo fun! (The flyer is on our myspace site, so you can read it better at www.myspace.com/japanla, rsvp at japanlaparty@hotmail.com)
Ok, time for new tokidoki stuff we just got in...I haven't seen this stuff anywhere yet, not even ebay. Steph is wearing the new tokidoki zip-up hoody. This print is similar to the first tokidoki hoody that we sold out of so fast. The hood has a white furry lining and zips up the front, and has a cute gold tokidoki logo zipper. It's $99...and it runs true to size.
Here is that print in a heavy thermal shirt.
I went over to Munky King so Zury could model some of the new stuff too! You guys haven't seen her in a while, so this is a treat for you...ha ha! Here is the first tokidoki jacket ever...It is heavy canvas material, with a white, furry collar. It's $175.
This is the new tan zip-up hoody. It has "tokidoki" and bastardino on the front, and cactus friends on the back. The hood has a white furry lining. The bottom trim is the tokidoki camo print. Sorry for the bad picture, that was the best one I could find....There will be better pics on the online store though. The hoody is $99, and it runs true to size. Zury is wearing a small.
Here is Jalissa wearing the new tokidoki cable knit sweater...It has a small, gold tokidoki logo embroidered on the front and "tokidoki" written on the back. Here is a pic that I photoshopped to get the white background...I've been practicing. The sweater is $130. It's really thick and well-made.
This is the new longsleeved tokidoki shirt with cactus girl on the front...it's $57...
Here is Donald wearing a new tokidoki girls' t-shirt. It's $44.
Here's another new t-shirt with the cactus friends on a brown shirt...super cute! It's $44.
Here's Jalissa wearing the new tokidoki candy girl shirt...we had it in a different color and it sold instantly...It's $44...and she's holding a white, plush Hello Kitty, call us if you want one, we have small ones too.
Here's Zury wearing the new tokidoki candy girl sweater in brown...it's $99.
So, while I was at Munky King taking pictures of Zury, I found Peekaboo chilling, and Zury volunteered him to be the model for the men's t-shirts for me...he was reluctant at first about all the cuteness, but he gave in...(Kuromi was not harmed in this picture). This is the new Kaiten tokidoki Men's tshirt in grey, it's $32. We have all sizes right now, but mens sizes go quick.
This is the new tokidoki black tshirt with the pink-haired girl. It's $32.
I don't know what this character is called, Rock band guy? I don't know, but here it is, it's $32. It's light grey in the picture, and we also have it in black.
Here's the skull tokidoki logo on a black tshirt...we also have it in light grey...It's $32.
"Make me a Sandwich" t-shirt is back in stock...It's $24.
We have it in girls' too...It's also $24.
Here is another shirt from the guys who make the "sandwich" tshirts...we only have a few though...they're $24.
that's it for now...come to our parties though...you will have SO MUCH FUN!!!! Both parties are free, just rsvp for them. xoxo, Jamie