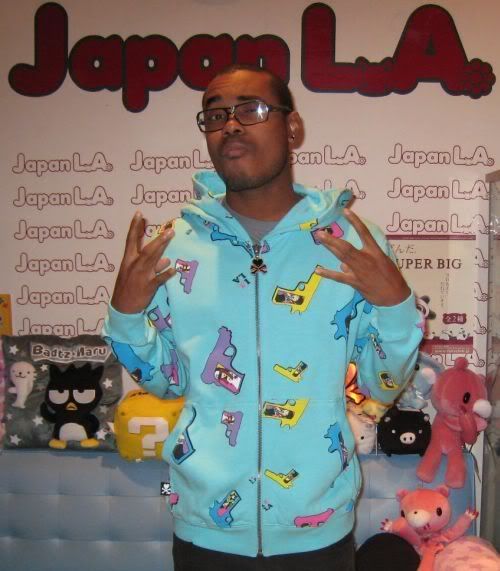 We just got in the new Men's tokidoki collection at JapanLA. Soooo many guys have been emailing me about this stuff, and it's finally here. We don't have a lot of it, so if you want something, order it asap! or even call in your order to make sure we don't run out of your size.
Sorry I took the pictures pretty quick just to get them posted as fast as I could, but you'll get the idea. The stuff is really cute....or handsome, for guys that don't like to use the word, "cute."
This is the new all-over print, gun pattern on a sea green hoody. Kei is wearing a size small...it is a baggy fit, so I suggest get the size you would normally wear and it will be loose fitting enough for you.
---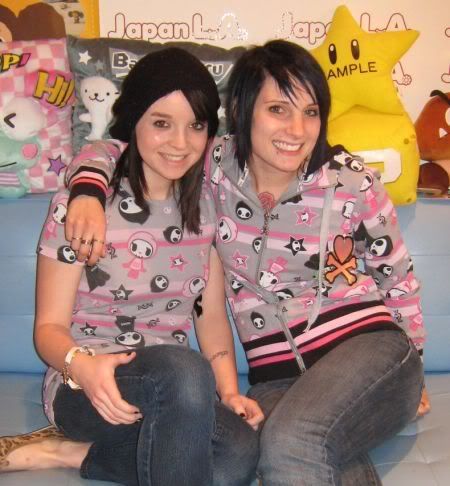 GREY + PINK + TOKIDOKI = JAPANLA...We just got the new tokidoki pink and grey stuff in and it is soooo cute. Here's Steph wearing the new striped all-over print zip-up hoody, ($92), with Adios & Ciao Ciao and Jalissa's wearing the tshirt, ($44).
---
Hi,
We got in some Monokuro Boo stuff. Here is Steph with the earmuffs, ($17), and the plush recorders, ($27). If you press his right ear, you can record a message, press his left ear and it will play back. These things are so fun. We also have phone charms,($7-$10), with that character too. Steph is holding one but it's kinda hard to see. (Guess what we were watching on tv all day today...)