Hi, Here are some more pics...the tokidoki fandomonium is crazy...I love it. Come visit me at JapanLA this weekend. We have so much stuff, and we haven't even taken pictures of everything yet. This is Kei, he unofficially works for JapanLA, which means he hangs out here a lot and helps me do things, like pack your boxes we ship out to you...and we have guitar hero battles We only have like 7 of these sweatshirts left. He is wearing a small...Kei is hot and he likes death metal and moshing....and he hearts his sidekick and psp...He is single ladies...Now I'm selling people on JapanLA.com...that's great...leave him a comment.
This is the back of that hoody...($84)...Kei said he likes it b/c it has an extra big hood.
This shirt is sooooooo cute....It's the same material as the rib cage one on the previous blog. These run pretty tight.
This shirt is so awesome. Cliff came in and bought one, and I recruited him to be my model...Thanks Cliff!
The back is awesome too. These are $44...we only have 9 left. I guess a lot of people heart L.A. We will be getting the girls' tank tops in grey this month some time with this print. I heart them.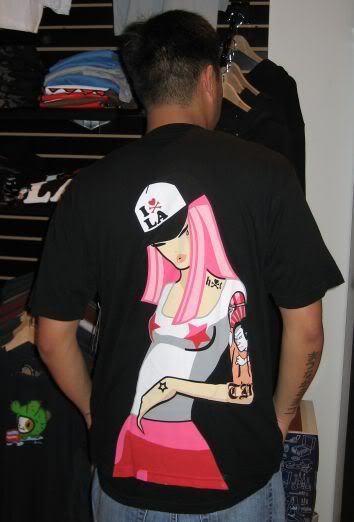 We have 5 new all over print shirts in blk and grey and blk/white. Here are some of them...($44). If you look in the background, that is the other grey/black all-over print shirt...super cute. Front:
Back: (the shirt is not fuzzy, my camera is still broken...no screen to see how pictures turn out before we download them.)
I was working by myself today, so I took these on the rack....sorry I couldn't pull any models today, except for Kei this morning, but he wouldn't put any of the girls shirts on, I tried. Front of shirt...
I wonder how many times I say cute in my blogs? Come to JapanLA this weekend. Saturday we are open 11am to 8pm Sunday through Friday 12pm to 7pm Yes, we are still sending stuff to you. Just email us your full name, address, and phone #, and we will call you for your credit card info over the phone, it's safer that way. xoxoxox, Jamie See you soon!