We just got in the new Men's tokidoki collection at JapanLA. Soooo many guys have been emailing me about this stuff, and it's finally here. We don't have a lot of it, so if you want something, order it asap! or even call in your order to make sure we don't run out of your size.
Sorry I took the pictures pretty quick just to get them posted as fast as I could, but you'll get the idea. The stuff is really cute....or handsome, for guys that don't like to use the word, "cute."
This is the new all-over print, gun pattern on a sea green hoody. Kei is wearing a size small...it is a baggy fit, so I suggest get the size you would normally wear and it will be loose fitting enough for you.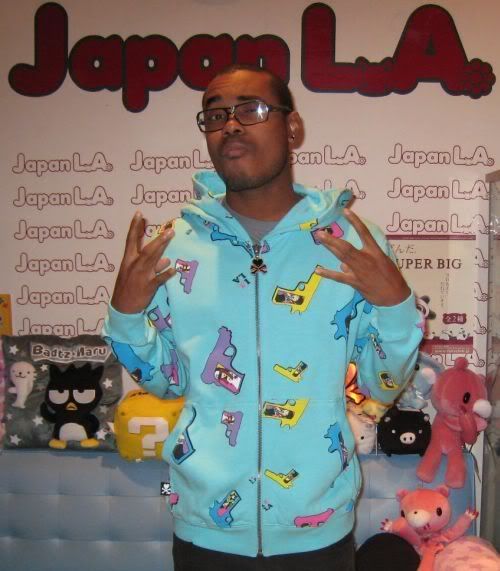 We also have the new I heart L.A. Men's tshirt...it has the tokidoki girl really big on the back too!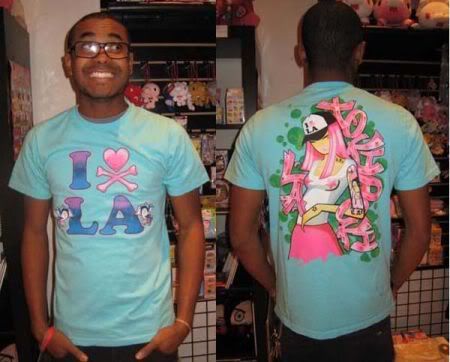 Here's the new Zip-Up Record Hoody. This is the one you may have seen Simone wearing. (Steph giving background props in the back, and I don't know what face Kei is making.)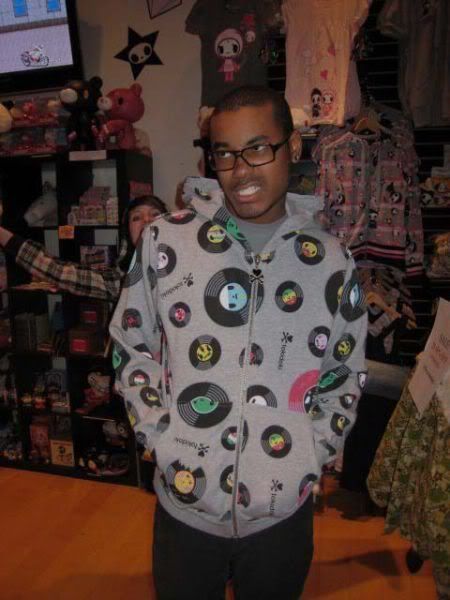 We also have the all-over print Record t-shirt.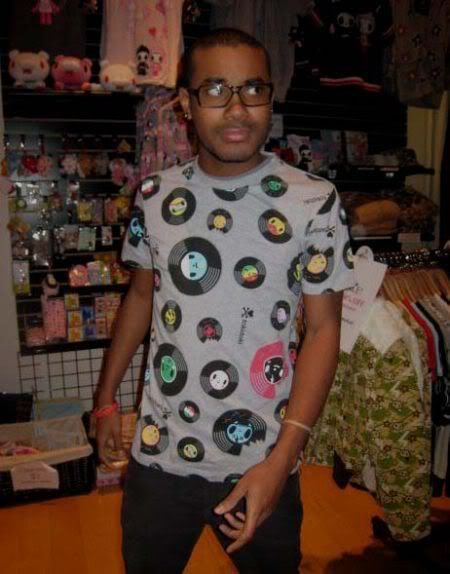 And...there's a sea green record t-shirt too...(steph being sneaky in the back and kei making his mad face....i don't know what happened with this picture, but oh well, the shirt is cute.)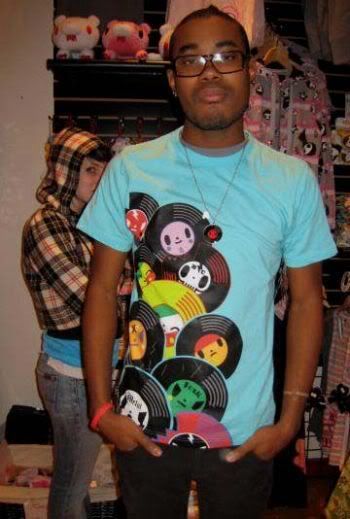 This is the tokidoki all-over print zip-up hoody in black, with grey guns printed all over it, and it has a huge spade character printed on the back. (my camera settings were off, Ace, from Kid Robot, is coming by to help me fix them...Anyway, the truer color of this hoody is the one on the right, the back view.) By the way, the inside of the gun, has the tokidoki girls inside.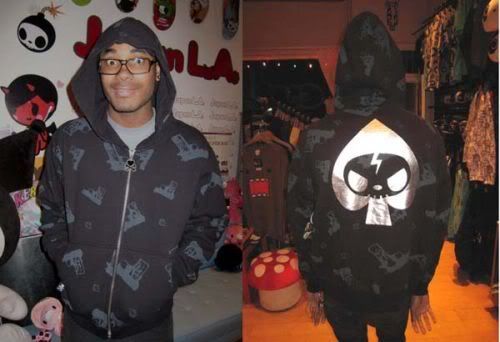 There is also a spade character on a light grey t-shirt.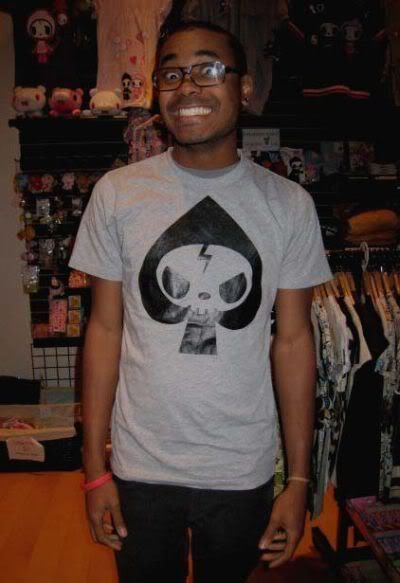 Here is the new Adios Pullover Hoody...it has the gun all-over print too.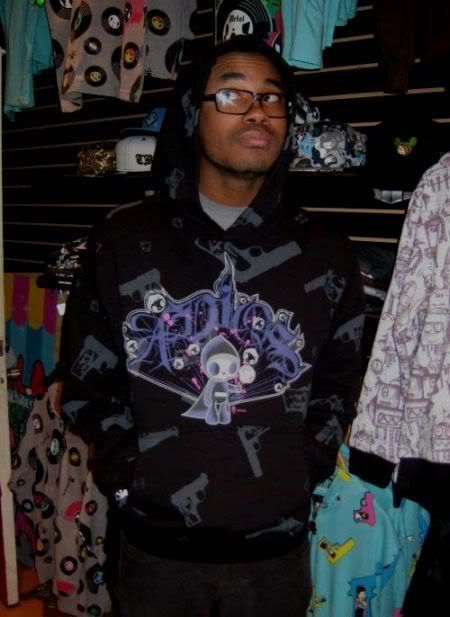 and we have the t-shirt too!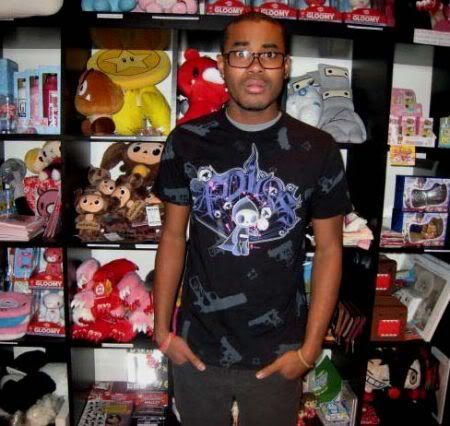 We got the new 8 inch Baby Gloomy Bears in stock...They come with a removable bonnet. We have pink, blue, and yellow. They are sooo cute!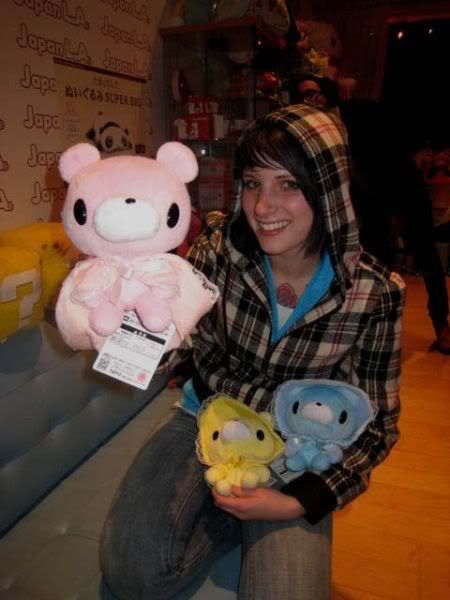 And...we just got in the new Gloomy Bear Solar figures. They come in white w/blood and pink w/extra blood. They bob their heads from left to right when you put them in the sun. There's better pics on our online store. Just go to www.japanla.com and click "shop" and "new stuff" and you'll find them...and yes, we also have the tarepanda, large baby gloomys and black 16inch plastic gloomy, that's in this picture too!
That's all for now....I know it's raining and you want to stay in bed this weekend...but you have to come out some time. So, stop by JapanLA or shop from home on our online store www.japanla.com
xoxo,
jamie
JapanLA
648 N. Fuller Ave. (off Melrose Ave.)
Los Angeles, CA 90036
(323) 934-5201