News — Sanrio
We just got in these super cute phone charms of Hello Kitty dressed as an ice-cream cone, donut, cream puff, and strawberry cake. They are a squishy, squeezable material, and they are only $3.50 each. These cannot be sold online, only in the store and we will take phone orders for them if you buy at least 2 at a time or order other stuff too!
---

Hi,
We got in soooo much cute Gloomy Bear stuff! Don't forget our favorite gloomy right now...white with gold or white with silver....Here's a picture with Kei so you can see how big they are...only $32...
---
Hi!
We just got in the Gloomy Bear Plush Hats...We have pink and grey...They are sooooo cute....They are only $28...Get them before we sell out! Think early Halloween costume or take funny pictures wearing this or just have these for no reason....Here's pics!
---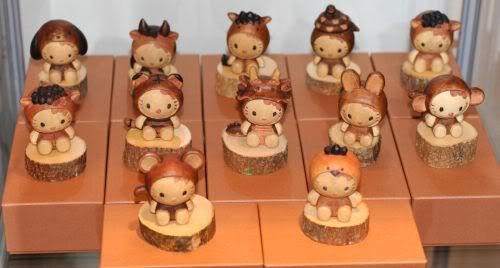 Hey!
We just got in a bunch of new Hello Kitty stuff, including a bunch of Chinese New Year stuff. Chinese New Year is on Feb 7th this year, and it is the Year of the Rat. So, Sanrio made a bunch of cute cellphone charms, chopsticks, small glass and wooden figures with Hello Kitty dressed as each animal: rat, ox, tiger, rabbit, dragon, snake, horse, sheep, monkey, rooster, dog, and pig. They are soooo cute. Here's pics of the 2 1/2 inch wooden figures, $22 each.
---
Happy Holidays! We have so much stuff for you to buy for all your friends and you! We have new Chupa Chups jumbo pillows, 26 inches long. Kei loves them, ($30).