SUPER FUN CHRISTMAS MADNESS!!
Dec 15, 2007
Happy Holidays! We have so much stuff for you to buy for all your friends and you! We have new Chupa Chups jumbo pillows, 26 inches long. Kei loves them, ($30).
And we have new Spicy Brown t-shirts for guys and girls, ($22), thermal shirts, ($30), and the hoodies, ($48), back in. Here is Kei wearing the new Tofu Astro T-Shirt.
Here's Steph wearing the new Octopus Roll tshirt, it's $22. We also have the baby gloomy bears in, they come in baby pink, blue, and yellow, and are only $25...they have drool instead of blood...super cute!
Here is another new Spicy Brown shirt, it says, "Miso Tasty." And Steph is holding this new cute elephant plush we just got in. They come in light grey, pink, and blue. They're $28.
We also have their new thermal shirts, they're $30 each...and the new Gloomy Bear hip bags, they clip to the belt loops on your jeans...we love these...they come in pink, blue, black, and white...and they're only $15.
This is the tofu robot, light blue, thermal shirt and another cute elephant.
We still have some of the new Gama-Go hoodies in stock. They are all $84 each, guys and girls. They are limited edition. Gama-Go only made 350 of each. So, once they're gone, they're gone. Gama-Go Panda Hoody
Gama-Go Tiger Lily Hoodie
Yeti Hoodie
Kaiju Hoodie
We also got these 3 t-shirts in...Here is Kei wearing them...I apologize for the crazy faces he makes, but it makes us laugh. PacMan Tshirt
Spiderpig
Donkey Kong Tshirt
we also got new mario stuff!!! like new sound plush(25$) and lots of keychains (7.50$)(theres a close up of jalissa holding them)
Heres the close up....
also more gloomy stuff . likeeeeeee... the solar gloomys are back(25$) .. new gloomy water bottles(18$),14" gloomy beanie plush(30$), mummy and broken bone gloomy(20$), more keychains and phone plush(8$), gloomy notebooks!(6$), and the best of all gloomy hip packs !!(15$)
NEW tire dogs including his friend HANGER DOG!! (in pink and blue! 18$)....and we got in more of the tire dog plush that we used to have..
Domokun plush storage cubes(18$), bath sponges(9$) and phone charms(6$) and ninja and toast plush are back in(20$) !.
My Melody special edition mushroom plush (18$)
and just to remind you chupa chups!!!!!!!!(30$)
and alot of little stuff .. phone charms... blind box hello kitty stuff... mini fake food toys... buff monster toys... i heart guts plush... street fighter sound keychains...new video game t shirts for men andddd we also got the make me a sandwich shirts back in for both boys and girls!! so come by today and get your christmas presents for all of your friends and yourself :)
HALLOWEEN CONTEST WINNERS AND MORE TOKIDOKI...PLUS BATZ MARU TOO!
Nov 9, 2007
Here are the contest winners from the JapanLA x Munky King x Capsole Halloween Party!!! The first place winner is Brenda. Everyone loved her...We loved Kei's costume too, but he works at JapanLA so he is disqualified...
I was obsessed with our best couple winners...I love them...
They even let me wear the teeth...I was so happy...
Zury and Peekaboo had an awesome couple costume too...but they can't win cuz' Zury works at Munky King...(they're jesus and mary, if you couldn't tell...)
I love pop tart guy...we gave him scariest costume...look how scary he is....
Luke Chueh had a great costume too...He was Thomas Han...he even had "hustle for happy" written on his chest...just like Thomas...go to www.lukechueh.com, if you don't know who he is....and go to http://www.munkyking.com/e-store/cnt_artists.asp and click "Thomas Han." They are awesome.
TOKIDOKI STUFF!!!! We got the new t-shirts in and they are soooo cute....Don't wait to get these because they will never be on sale and we are running out of sizes fast. They're $32 each.
Here's the ipod devil girl t-shirt...We also got in the iphone skins, ($14.95), from artists like: Amy Sol, Nathan Ota, Bob Dob, and others...We also got the laptop skins too, ($29.95),from artists: Audrey Kawasaki, Kathy Olivas and more! Call us if you want those, we didn't put them online yet...the iphone skins are online thought...
We have all the tokidoki decks in stock, except the cactus girl one, but we have all 3 of the new ones...the L.A. deck, Pirata, and Kaiten Sushi decks...They're $77.99 online and $75.99 in store, (just because they cost a lot to ship.)
NEW TOKIDOKI STICKERS AND WALL DECALS!!! We just got in a bunch of new tokidoki stickers: Mozzarella, Latte, LA Gun, Bastardino, Adios, Ciao Ciao, and the new skull logo. They cost $2.50 for the medium-sized ones and $3.00 for the bigger ones...They're on the online store under stickers. Oh, and we got wall decals of the tokdioki heart and crossbone logo...you get 144 of them, various sizes and colors for $45. We are also selling them individually in the store for $1 or $2, depending on size. You can stick these on your car, walls, wherever... We just got these new shirts in from "Mum's the Werd." They are so cute...They come in black with hot pink and blue...Here is Jalissa wearing the pink one and the back of the blue one...They're $24...nice robot dancing...
We have sooo much Sanrio in for Christmas....Really cute Kero Keroppi bags, slippers, wallets, plush, etc...And awesome Badtz Maru stuff...like this cute, super long Badtz Maru scarf, ($24), and hat ($14).
We have awesome Sanrio blankets and pillows...Here's Kei taking a nap...(this blanket is $68...It's big 78" x 55").
come check out the new stuff...oh and we have Hello Kitty Beach Cruiser Bikes...Kei still has to assemble them and then we will take pictures of them... xoxo, jamie
OUR LONGEST BLOG EVER: PARTIES AND SO MUCH NEW TOKIDOKI!!!
Oct 31, 2007
We are having 2 parties this week! The first one is our Halloween Party with our friends Munky King and Capsole. You will definately see some of your favorite lowbrow artists partying it up. It is tomorrow, Wed, Oct 31st.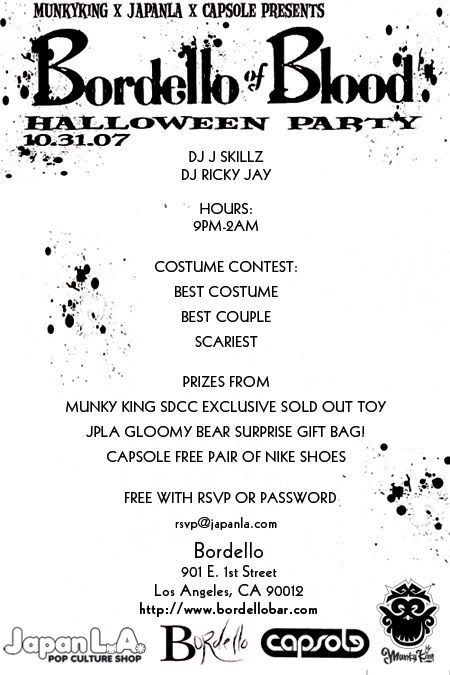 We are also having a party this Friday, Nov 2nd with the makers of the Rock Band video game. It's similar to Guitar Hero, but you get a guitar, bass, drums, and a mic to sing. We will have the game for you guys to play and a stage set up so you can rock out and be ridiculous. My friends at the Von Dutch store are giving away a real guitar as one of the prizes...and the Rock Band game is a prize too. This game isn't even released yet...but you will get to play it! Its going to be sooooo fun! (The flyer is on our myspace site, so you can read it better at www.myspace.com/japanla, rsvp at japanlaparty@hotmail.com)
Ok, time for new tokidoki stuff we just got in...I haven't seen this stuff anywhere yet, not even ebay. Steph is wearing the new tokidoki zip-up hoody. This print is similar to the first tokidoki hoody that we sold out of so fast. The hood has a white furry lining and zips up the front, and has a cute gold tokidoki logo zipper. It's $99...and it runs true to size.
Here is that print in a heavy thermal shirt.
I went over to Munky King so Zury could model some of the new stuff too! You guys haven't seen her in a while, so this is a treat for you...ha ha! Here is the first tokidoki jacket ever...It is heavy canvas material, with a white, furry collar. It's $175.
This is the new tan zip-up hoody. It has "tokidoki" and bastardino on the front, and cactus friends on the back. The hood has a white furry lining. The bottom trim is the tokidoki camo print. Sorry for the bad picture, that was the best one I could find....There will be better pics on the online store though. The hoody is $99, and it runs true to size. Zury is wearing a small.
Here is Jalissa wearing the new tokidoki cable knit sweater...It has a small, gold tokidoki logo embroidered on the front and "tokidoki" written on the back. Here is a pic that I photoshopped to get the white background...I've been practicing. The sweater is $130. It's really thick and well-made.
This is the new longsleeved tokidoki shirt with cactus girl on the front...it's $57...
Here is Donald wearing a new tokidoki girls' t-shirt. It's $44.
Here's another new t-shirt with the cactus friends on a brown shirt...super cute! It's $44.
Here's Jalissa wearing the new tokidoki candy girl shirt...we had it in a different color and it sold instantly...It's $44...and she's holding a white, plush Hello Kitty, call us if you want one, we have small ones too.
Here's Zury wearing the new tokidoki candy girl sweater in brown...it's $99.
So, while I was at Munky King taking pictures of Zury, I found Peekaboo chilling, and Zury volunteered him to be the model for the men's t-shirts for me...he was reluctant at first about all the cuteness, but he gave in...(Kuromi was not harmed in this picture). This is the new Kaiten tokidoki Men's tshirt in grey, it's $32. We have all sizes right now, but mens sizes go quick.
This is the new tokidoki black tshirt with the pink-haired girl. It's $32.
I don't know what this character is called, Rock band guy? I don't know, but here it is, it's $32. It's light grey in the picture, and we also have it in black.
Here's the skull tokidoki logo on a black tshirt...we also have it in light grey...It's $32.
"Make me a Sandwich" t-shirt is back in stock...It's $24.
We have it in girls' too...It's also $24.
Here is another shirt from the guys who make the "sandwich" tshirts...we only have a few though...they're $24.
that's it for now...come to our parties though...you will have SO MUCH FUN!!!! Both parties are free, just rsvp for them. xoxo, Jamie
HAPPY HALLOWEEN! FUN STUFF: MASKS, TOKIDOKI BAGS, AND MORE!
Oct 26, 2007
Happy Halloween! JapanLA + Munky King + Capsole are having a Halloween Party Wed, Oct. 31st. It is going to be fun! Check out the flyer below for details. It is at a bar so its 21+.
JapanLA is also having a party on Nov 2nd, at Cinespace with Rock Band...that new game from the makers of Guitar Hero. It's like Guitar Hero, but you have a guitar, bass, drums, and a microphone to sing. It is going to be really fun! I will post more details tomorrow! but you will be able to play the game before it comes out! and we will have prizes and one of the prizes will be a real guitar!
We just got the new tokidoki Vacanze bags in. We have these styles in: Ciao, Gioco, Buon Biaggio, Zucca, Aventura, Stellina, Dolce, Bambino, Bambinone, Campeggio, Denaro, Canguro, and Cucciolo. We also have these styles available in black with the Citta print on the inside. The Vacanze is the last print being released from tokidoki. So, make sure you get one before they run out. They are very cute. Here is Jalissa with the Buon Viaggio bag...and yes, we will do phone orders on these...So, just call us if you want one.
Steph is back from her trip to Oregon...we missed her...Here is the new Cheetah knit masks. This could be your instant Halloween costume! The knit masks are only $19.
Here is Steph and Kei in the skull mask and the cat mask.
We also have these ninja turtle half masks....awesome! they are $15 each.
Panda Masks are back in by popular demand! Be a Panda Gang for Halloween!
Gorilla mask...ha ha ha!!! and yes, we still have those bananas too!
And the batman half mask...
We have these crazy "dick in a box" things...they are also a good instant halloween costume, or just a fun present to give to someone. They're $12.
"Kwanzaa...dick in a box..."
We finally got Pocky and Hi-Chew candy back in...Kei is happy...
Freddy vs. Jason Stuff from Japan! These are so cute and creepy...They are $24.95....perfect for Halloween ridiculousness. We also have Jason and Freddy phone charms too!
We just got SO MUCH New Sanrio stuff in stock...really cute plush and other random cute stuff from: Hello Kitty, Kuromi, Badtz Maru, Chococat, My Melody and more! Come check it out! We just got in new Harajuku Lovers stuff...a new lion tshirt and a turntable tshirt...and a red striped sweater...really cute...my camera battery ran out, so i couldn't take anymore pictures, and I wanted to get the blog up...so, you have to come in and see them. We also got in more Gloomy Bear Men's and Women's t-shirts. We had run out of them. They are back in stock! And...the shirts with the dinosaur that says, "Make Me a Sandwich," are back in, and a new one from the same guys who make that one... That's all! Come visit us this weekend! and come to our party on WED, OCT. 31st at Bordello, in Downtown Los Angeles, for fun and prizes. A lot of well-known artists that you love will be at the party, so you can take fun pictures with them...and we will be there! xoxo, Jamie
NEW CHARACTERS AT JAPANLA!
Oct 11, 2007
Hi! We have new characters at JapanLA! Here is a pic of Kuromi and Luke Chueh. Come take pictures with Kuromi at JapanLA!!!
We got in a bunch of Kuromi purses, wallets, makeup bags, and nano ipod cases too!
We have new Sanrio Plush, here are some of them. The big ones are $88. They are so cute...and this is me in the picture for once.
JapanLA has a new sales girl, her name is Jalissa. Leave comments and say hello. Stephanie is still here, she's just on vacation in Oregon. Here is a picture of Jalissa with the new Gary Baseman Bags we just got in, made by Harvey. They are made out of seatbelts...awesome. They're $244...and we are marking down the latte shirt, it is 25% off, so it was $44, NOW it's $33.
Here are all 3 of the Gary Baseman Bags...They are awesome! $244 each. They have a huge graphic inside the bag and come with the charm keychain on it.
We got new Gloomy Bear 16 inch plastic, posable figures in! We have pink w/extra blood and black w/blood. We sold out of these so fast last time we had them. So don't miss out on these. They are only $35 each. We are preselling the Gloomy hat that Kei is wearing too. Go to the presell section to reserve yours. They won't be here until Feb though.
Here is Freddie and Carissa making scary faces for us. Gloomy is scary...
We got more Nintendo Sound Blocks in! They make noise when you hit them. The yellow blocks make the noise like when you are getting coins on Super Mario...and the turtle shells make noise, and the red and black bombs are from the Bomberman game and make explosion noises. They're $25.
That is all for now. There's other new stuff, but I can't remember right now, so come in and take a look. xoxo, jamie
THIS SH*T IS BANANAS!
Sep 6, 2007
Hi! We got more fun stuff in to show you! First are these funny stuffed bananas! They are big, 29inches long...They're $30.
We just got in Cheburashka plush. I love this character. He is originally from a Russian television show that started in 1969. He became very popular in Japan after animated film series about him were shown in 15 cinemas all over Japan and were watched by approx. 700,000 Japanese between summer 2001 and spring 2002. You can find some clips in Russian and Japanese on You Tube. We have him in an 11 inch tall, 16 inch wide plush for $28, and a 6.5 inch tall, 8.5 inch wide plush for $18...so cute...
Here's a brief story about Cheburashka: Cheburashka is a funny little animal, unknown to science, who lived in the tropical forest. He accidentally got into a crate of oranges, ate his fill and fell asleep. Cheburashka is not a personal name; it is a species name invented by the puzzled director of the shop, where he was found. The salesmen took the animal out and sat him on the table, but his paws were numb after the long time spent in the crate and he tumbled down ("cheburakhnulsya" (чебурахнулся), a Russian colloquialism, "tumbled" in English) from the table onto the chair and from the chair, where he could not sit for the same reason, onto the floor. The director of the shop, who saw it, called him Cheburashka...(we love him...) Fuzzy Bear Hooded Jackets for GGGRRRRRRRRLLLLLS, (and Kei)....they're $160...and they're reversible...Kei is wearing a girl's XL...They do make guys ones too, we might get them, what do you guys think? Would guys be into these?...The guys' ones come in teddy bear brown and a dark brown, with some sort of flannel print for the reversible side.
Here's what a girl would look like wearing it.
and it's reversible...here's what it looks like wearing it the other way...
Mens' Hoodies are Here! The 3 below are all reversible...so it's like getting 2 hoodies in 1...we have them in size S, M, L, XL, 2XL. This one has writing paper as a background, with robot drawings on it. It is reversible, and it is a solid aqua blue. It's $85.
Here's the robot hoody, it has a zipper down the front and the back...and has a creepy face guy on the hood. This is Kei's brother, Kol modeling for us...This hoody is $130.
and here's the back...
and yes! it's reversible too...it's like a circuitboard inside.
Here's Kei wearing the Reversible Ninja Hoody...It zips up half way, like a ninja, and it has finger holes in the sleeves...amazing...It's $120.
and...it has ninja swords on the back.
And if you wear it reversed, it looks like this...(it has a cool pattern made out of ninja swords and ninja stars.
We still have lots of tokidoki hoodies and shirts for you too! xoxo, jamie
NEW!!!! TOKIDOKI HOODIES AND T-SHIRTS!!!GLOOMY BEARS AND HARAJUKU LOVERS TO
Aug 31, 2007
Hi! We're back with so much stuff to show you. The new tokidoki hoodies finallly came in...and they also sent some things we weren't expecting yet too. So, here you go! Here's Steph with the new All-Over Print Hoody with Latte, Mozzarella, Happy Bullets and friends. It's $93.
We also got in the all-over print t-shirt. It's $44.
Here's the new black hoody with "TD" on the front, and the all-over printi inside the hood, hearts on the pockets in front, and Mozzarella on the back. It's $93.
Here's the back...
Here's the new Adios Star Zip-Up Hoody. It has an all-over print inside that's black, white, red, and grey with the devil girl, chili peppers, adios star and fantasmino and other tokidoki girls. It says "tokidoki" on the back in some sort of dark red terry cloth fabric and white stitching...hard to explain, but it looks awesome. It's $93.
Here's the short-sleeved, light blue hoody with the devil horns on the hood. It has an all-over print on the inside of the hood and on the front pocket. It's $88.
Here is the first tokidoki sweater. It's black with Adios Star. Here's Steph wearing a medium. She's trying to act like she's taking a school photo...nice.
And guys can wear these too. Here's Kei wearing an XL in women's.
We got in a bunch of new t-shirts too. Here's the Mozzarella shirt in black. We also have it in cream. It's on the online store. It's $44.
And here's the back of the Mozzarella tshirt...
This is the latte shirt in cream. It's $44.
And here's the back.
There's a new barbed wire series from tokidoki. Here is the short sleeved hoody, and it comes with black long sleeves attached to it. You could always cut the black sleeves off if you want to wear it as a short sleeved hoodie. Either way it's cute. It also has the devil horns on the top of the hood. It's $93.
Here's the black barbed wire tokidoki t-shirt. It has the tokidoki logo across it, in red. It's $44. We still have some of the New Era tokidoki Barbed Wire hats too. Those are $45.
Here's the tokidoki barbed wire shirt in white, with flying Adios. It's $44.
This is the tokidoki barbed wire thermal long sleeve shirt, it's $56...and we have the big tarepanda's for sale now. They're $80. I'm not putting them on the online store, but if you want me to send you one, just email us or call us b/c the shipping will cost more since it's so big.
We just got in 5 more styles of tokidoki men's t-shirts. We also still have Bastardino, Spinosa Gatto, Inferno, Devil Cooking Hot Dog, and some other ones. Check the online store for them. They are $32 each. Sorry the pictures are kinda bad. I don't know what's up with my camera settings. Here is the Mama Mia or Pasta Mia, I don't remember...
tokidoki logo...
Rocketeer...
Dark Rider...
Pirate...(with Steph giving background props...)
We got in some really cute Harajuku Lovers stuff. This really cute zip-up sweatshirt is $99.00.
Here's a cute windbreaker. It's $79.50...oh, and that's squeaky veggie poo, that Steph is holding...we have regular poo too...it's $14.
Here's the inside of that jacket...
We have this red shirt too. It's $44. It says "love" on the front...
and has this girl on the back...We have it in grey too, with a different girl on the back, it's on the online store.
New Gloomy Bears Are In!!!! They come in attack mode, with their arms crossed. We have pink, red, and grey, all come with blood on their paws...cute...they are 14 inches tall. They're only $25. Here's Kei with a bunch of them. The 3 on his lap, are the new ones. We also have the white one and poseable one too, on the online store...and the big 20" one too.
We got the furry gloomy bear arms...they're 9 inches long. You can clip them to your bags or whatever. They are so cute. We got pink w/blood, grey w/blood, red w/blood, and pink w/no blood. They're only $10...and we got more Relaxed Bear bag/phone charms too.
Here's Steph with a gloomy arm clipped onto her purse. We also got in the gloomy bear mugs. They're heat sensitive, so they change color if you put hot or cold drinks in them, $15.
Here's Kei being creepy with the gloomy arms.
We got in some new Gama-Go t-shirts too. Here's their newest Battle Royale t-shirt, Kaiju vs. Giant Squid, $28.
and the Shibuya shirt in black, we also have it in olive green too, $28.
Ok, that's it for now. Come visit us this Labor Day Weekend. We still have some sale stuff left from tokidoki, Harajuku Lovers, Sanrio, and more! xoxo, Jamie www.japanla.com/catalog
FEATURED ITEMS